Bellafill
Fayetteville, NC Bellafill Provider
Are you interested in smoothing lines around your nose and mouth and reducing visible acne scars on your face? At Élan Med Spa, we offer multiple dermal filler options to address your aesthetic concerns and rejuvenate your natural appearance without surgery or downtime.
Élan Med Spa is led by board-certified physician assistant Mary Lee Cudd. Contact us today to schedule a consultation and find out how dermal fillers such as Bellafill® can smooth and refresh your skin safely and effectively.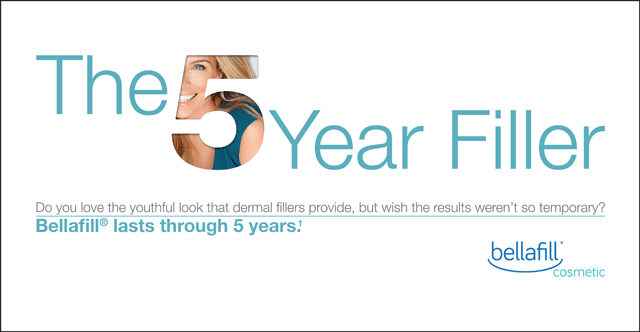 How Does Bellafill® Work?
There are many dermal fillers on the aesthetic market for non-surgical skin rejuvenation, but Bellafill® stands out for multiple reasons:
It can smooth moderate to severe nasolabial folds between the nose and mouth
It is also approved for the correction of moderate to severe atrophic, distensible facial acne scarring for patients 21 years and above
It is the only dermal filler proven to safely and effectively reduce the appearance of nasolabial folds through five years
It is a collagen filler that provides both immediate and long-lasting results
When injected underneath the skin with a fine needle, this dermal filler provides immediate lift to volume-deficient areas for skin that is instantly smoother and younger-looking.
Additionally, the unique microsphere formulation of Bellafill® supports your skin's natural collagen production in a protective matrix. This increases the production of collagen to help remodel and smooth skin from the inside out.
What are the Benefits of Bellafill®?
Immediate and long-lasting results
Smoother, rejuvenated skin without surgery or downtime
A treatment that will refresh your natural appearance without compromising your facial expressions
Expert results from Mary Lee Cudd, who has been providing Fayetteville, NC Bellafill treatments for over 14 years
Treatment that is typically well-tolerated by most patients with no major side effects
Are There Any Side Effects?
Aside from the possible bruising, swelling, redness, itching, and other mild and temporary side effects that accompany all injectable treatments, Bellafill® does not carry major side effects as it is derived from collagen, which is found naturally in the body.
During your consultation with our medical team, we will discuss all relevant safety information with you, and a simple skin test will be done to ensure that your treatment will be free of any allergic reaction.
Results may vary, and it will take two or more treatment sessions to achieve your aesthetic goals. Our medical team will let you know what you can expect as well as how many sessions you may need for the best results.
Contact Élan Med Spa today to schedule a consultation at our office and find out how Bellafill® and dermal fillers can smooth your visible signs of aging and help correct acne scarring without any downtime or disruption to your normal activities.
Before & After